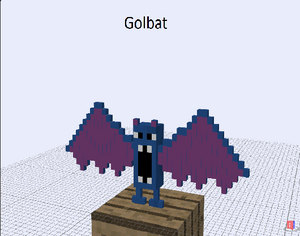 Not yet released!

Pokedex entry: Golbat is a blue bat-like Pokémon. Its wing membranes and ear insides are purple. It has a large mouth with four fangs, and now has a small pair of eyes. Golbat has a short pair of legs that possess only one toe each, and the tails it possessed as a Zubat seem to have disappeared. Golbat's ears are much smaller compared to Zubat's, being triangular and having ear insides that do not appear chambered. Golbat's wings, unlike Zubat, also only have one 'finger' instead of two.

Types:
Poison/Flying
Models
Community content is available under
CC-BY-SA
unless otherwise noted.