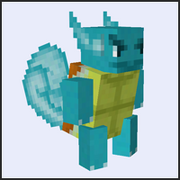 Wartortle is in the mod since v0.3.

It evolves from Squirtle and evolves into blastoise. It can use Torrent and Rain Dish. pokedex entry:
Wartortle, the Turtle Pokémon, and the evolved form of Squirtle. Its furry tail is very popular as a symbol of long life.
Models
Vote for the best model ?
Community content is available under
CC-BY-SA
unless otherwise noted.